Locked in a mysterious room, it's up to you to solve puzzles and challenges in time… to save your companions!
How does a game at ExitGame work?
You are welcomed upon your arrival by one of our great gamemasters. After a first briefing on the general rules, he will take you to THE door of your escape room. Your group will enter the room alone. Once the door is closed, an introductory video will be shown, introducing the theme and plot of the room and giving you instructions on how to get started.
Then, your group should start exploring the piece, looking for clues and solving puzzles and challenges one by one, ahead of the adventure!
Throughout the game our gamemasters follow you via a camera. If they think you need help or clues, or if you are a little late, they can send you an instruction. This instruction is sent via a visible screen in your game room.
Who goes to the escape room?
At ExitGame our escape games are for anyone who likes to have fun, likes to play games and is looking for something new to do to have fun. Whether you are a group of friends, family members or co-workers, everyone will find something they like.
Escape games are also excellent for teamwork. Once the door is closed, your group will focus on the unique goal of working together and trying to escape. Consider booking your next corporate or sports team meeting here.
The minimum age is 13 years for groups composed only of teenagers/children. Otherwise, the presence of an adult in the game is mandatory.
Choose your universe: The laboratory, the tomb, the prison or SAW.

The laboratory
Difficulty: difficult but recommended for a discovery
(40% success rate)
You and your team are in charge of inspecting the laboratory of Professor Zamonov, a brilliant scientist with a sulphurous reputation and a somewhat… unstable mind. He is suspected of working with prohibited and extremely dangerous strains of viruses… What could possibly happen?
The tomb
Difficulty: difficult but recommended for a discovery
(40% success rate)
What a unique opportunity to discover an intact Egyptian tomb! As experienced archaeologists, you will never miss an opportunity like this. And then the rumors of curses that could fall on anyone who enters the tomb are just nonsense… Isn't that right?
SAW
Difficulty: very difficult.
3 players minimum.
(25% success rate)
Immerse yourself in the terrifying world of the most cruel of serial killers. Trapped in the den of evil, you have limited time to prove to jigsaw that you deserve to live it. He has prepared the worst for you to test your self-sacrifice and willingness. His machines are merciless with those who will hesitate too much. But what sacrifices will you have to make to get out (in one piece?)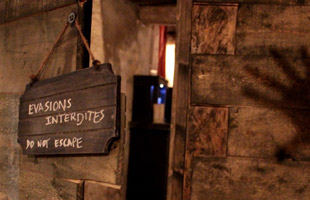 Alcatraz
Difficulty: very difficult.
3 players minimum.
(15% success rate)
You are mistakenly trapped in the darkest and most humid dungeon of Fort Saint-Jean. The guards don't want to know anything, you'll be executed in an hour for a crime you didn't commit. You find a mysterious message in your cell, the fort would house an old illuminated temple, which could be an exit. Will you be able to escape in time?
What if the riddles are too hard?
ExitGame escape rooms are designed to be challenging, because it's hard to have fun when things are too easy. At ExitGame, we include a variety of different types of tests, which use different skills and abilities. This means that everyone can contribute!
If a puzzle is too difficult, your group can get a clue from our game masters to help you meet the next challenge.
Is ExitGame suitable for children?
Yes, at ExitGame, we believe it is important to offer something for everyone. So, although some of our games have more extreme themes, others such as the lab or the Egyptian tomb are more focused on entertaining situations that the whole family can enjoy.
Children under 13 years of age must be accompanied by an adult.
Take up the challenge.
Book your game now.
"A great time!!!"
After having already done the laboratory we rushed to make the tomb and are looking forward to a new room… It was great: very well done sets, rather difficult puzzles and a moment out of time guaranteed ( except for the time:). Fun and perfect with two teenagers looking for sensations or unusual!
Nadeege, via Tripadvisor
"Very good time!"
There were 4 of us for the "laboratory" room. 2nd experience for us after discovering the escape game in Paris the week before! A worked decoration and clever enigmas! You really have to look everywhere and especially communicate with others about your discoveries. So a very good room that makes you want to discover "the tomb" and that promises for all the others to come… We will come back!
Gautier B, via TripAdvisor
"A very nice concept"
We went there with friends. The concept is very nice and offers a different activity from the others. Welcomed, we made the archaeological room and the atmosphere was there during the whole hour of the activity (55min exactly). Being my first escape-room, I can't judge its quality compared to other rooms of the genre. But the main thing is that we had a very good time!
Sylvain D, via TripAdvisor
Book your game in 2 minutes
Step 1: Set up your elite team of 2 to 6 people.
We advise 4 to 5 people, otherwise it may be too difficult.
Step 2: Choose the scenario you like best.
All the rooms are difficult (about 40% success), but Alcatraz is particularly so (only 15% success).
Step n°3: Book your slot
on this site or on +33 9 81 47 75 74. The price is 24€ per player, with a reduced price of 19€ during the week before 7pm.